"
Keeps sweat and hair out of your eyes.
"

–In-game description
The Bandana is a Light Armour Class Hat item. It can be made by using a Leather Armour Crafting Bench.
Appearance
Edit
The Bandana is a white cloth tied around the character's face like a headband. It leaves the majority of the face and head exposed.  
Bandana
[Prototype Grade]
[Light Armour Class]
[Cloth]
-Blunt resistance
0.02
-Cut resistance
0.00 (70% stun)
[Coverage]
-Head
40%
-Combat skills effect
1
------------
-Weight
1kg
-Value
47
-Trade Value
7
Bandana
[Shoddy Grade]
[Light Armour Class]
[Cloth]
-Blunt resistance
0.08
-Cut resistance
0.02 (70% stun)
[Coverage]
-Head
40%
-Combat skills effect
1
------------
-Weight
1kg
-Value
478
-Trade Value
71
Bandana
[Standard Grade]
[Light Armour Class]
[Cloth]
-Blunt resistance
0.16
-Cut resistance
0.03 (70% stun)
[Coverage]
-Head
40%
-Combat skills effect
1
------------
-Weight
1kg
-Value
1858
-Trade Value
278
Bandana
[High Grade]
[Light Armour Class]
[Cloth]
-Blunt resistance
0.24
-Cut resistance
0.05 (70% stun)
[Coverage]
-Head
40%
-Combat skills effect
1
------------
-Weight
1kg
-Value
4159
-Trade Value
623
Bandana
[Specialist Grade]
[Light Armour Class]
[Cloth]
-Blunt resistance
0.32
-Cut resistance
0.06 (70% stun)
[Coverage]
-Head
40%
-Combat skills effect
1
------------
-Weight
1kg
-Value
7379
-Trade Value
1106
Bandana
[Masterwork Grade]
[Light Armour Class]
[Cloth]
-Blunt resistance
0.38
-Cut resistance
0.08 (70% stun)
[Coverage]
-Head
40%
-Combat skills effect
1
------------
-Weight
1kg
-Value
10398
-Trade Value
1559
Blueprints
Edit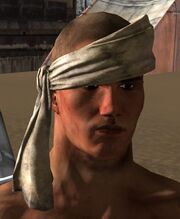 Bandana Blueprint

Details
Tech Level
lvl 2
Cost
322 cats
Location(s) to Buy
DC & UC Hat Traders
Research
Material Cost
Production
Prototype
0 hrs
0.3
2 hrs
Shoddy
6 hrs
0.3
2 hrs
Standard
9 hrs
0.4
2 hrs