Overview
Edit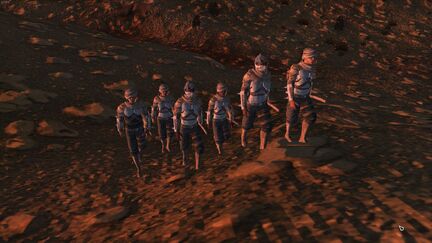 A group of people who have dedicated themselves to culling the
Cannibal
threat, attempting to keep them contained in their own territory. It is presumed they do this for their own reasons, such as personal grudges and the like. Unlike most factions in the world, these people will heal wounded strangers they see.
A comprehensive list of information regarding this faction. Click the button below each section to reveal its information.


Misc NPCs
Edit
-- The generic NPCs this faction has. Usually soldiers, civilians, and the like.
Relations
Edit
-- The factions this faction has special relations towards, though they may not share the same opinion. For all others, it will use this faction's default (0).
-- The towns, outposts, and other locations owned by this faction.
Ad blocker interference detected!
Wikia is a free-to-use site that makes money from advertising. We have a modified experience for viewers using ad blockers

Wikia is not accessible if you've made further modifications. Remove the custom ad blocker rule(s) and the page will load as expected.