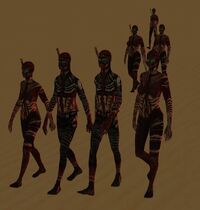 The Cannibals are a group of tribal humans native to the Cannibal Plains and other surrounding Biomes.
Currently, Cannibals will knock unconscious and carry members of other factions and the player to their camp or village. When the cages start to get full, they will start periodically beating their prisoners to death, and throwing them into the cooking pits. 
They will not eat Skeletons, though that does not mean they are non-hostile to them. 
A comprehensive list of information regarding this faction. Click the button below each section to reveal its information.


Misc NPCs
Edit
-- The generic NPCs this faction has. Usually soldiers, civilians, and the like.
Notable NPCs
Edit
-- Special NPCs this faction has. Unique characters such as rulers and other important people.
Relations
Edit
-- The factions this faction has special relations with. Most others will use the default (0), bandits use (-100).
-- The towns, outposts, and other locations owned by this faction.
Ad blocker interference detected!
Wikia is a free-to-use site that makes money from advertising. We have a modified experience for viewers using ad blockers

Wikia is not accessible if you've made further modifications. Remove the custom ad blocker rule(s) and the page will load as expected.