"
A chain undershirt provides a reliable second layer of defence.
"

–In-game description
Chain Shirt is armor in Kenshi that can be used as a Shirt for the player. It belongs to the Medium Armour Class and can be crafted using the Chain Armour Crafting Bench.
Appearance
Edit
Similar in appearance to Chainmail, the Chain Shirt is made up of thousands of individual metal rings linked together. Chainmail covers the entire torso, halfway up the character's neck and down to the biceps of both arms.
Chain Shirt
[Prototype Grade]
[Medium Armour Class]
[Chain]
-Blunt resistance
0.003
-Cut resistance
0.19 (40% stun)
[Weather Protections]
[Coverage]
-Chest
100%
-Stomach
100%
-Right Arm
25%
-Left Arm
25%
-Athletics effect
0.93x
------------
-Weight
4kg
-Value
1286
-Trade Value
257
Chain Shirt
[Shoddy Grade]
[Medium Armour Class]
[Chain]
-Blunt resistance
0.06
-Cut resistance
0.29 (40% stun)
[Weather Protections]
[Coverage]
-Chest
100%
-Stomach
100%
-Right Arm
25%
-Left Arm
25%
-Athletics effect
0.94x
------------
-Weight
4kg
-Value
5064
-Trade Value
1012
Chain Shirt
[Standard Grade]
[Medium Armour Class]
[Chain]
-Blunt resistance
0.12
-Cut resistance
0.4 (40% stun)
[Weather Protections]
[Coverage]
-Chest
100%
-Stomach
100%
-Right Arm
25%
-Left Arm
25%
-Athletics effect
0.94x
------------
-Weight
4kg
-Value
16432
-Trade Value
3286
Chain Shirt
[Specialist Grade]
[Medium Armour Class]
[Cloth]
-Blunt resistance
0.24
-Cut resistance
0.59 (40% stun)
-Harpoon resistance
38pts
[Weather Protections]
[Coverage]
-Chest
100%
-Stomach
100%
-Right Arm
25%
-Left Arm
25%
-Stealth effect
0.55x
-Athletics effect
0.97x
------------
-Weight
4kg
-Value
107976
-Trade Value
16196
Blueprints
Edit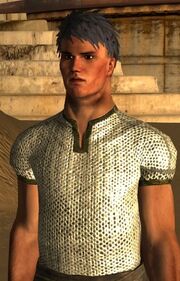 Chain Shirt Blueprint

Details
Tech Level
lvl 2
Cost
16432 cats
Location(s) to Buy
HN, DC & UC Clothing Traders
Research
Material Cost
Production
Prototype
0 hrs
2
14 hrs
Shoddy
12 hrs
3
27 hrs
Standard
20 hrs
3
44 hrs