"
Good solid long-range boots, common for travellers.
"

–In-game description
Drifters Boots are armour that are equipped in the Boots slot. They belong to the Light Armour Class.
They provide modest coverage and resistance, but are light and do not restrict the character's movement by much.
Appearance
Edit
Drifters Boots are knee-high leather boots. These have no additional material on them for added protection, which make them lighter than other boots.
Drifters Boots
[Shoddy Grade]
[Light Armour Class]
[Leather]
-Blunt resistance
0.1
-Cut resistance
0.16
[Coverage]
-Right Leg
40%
-Left Leg
40%
-Athletics effect
0.96x
------------
-Weight
1kg
-Value
229
-Trade Value
45
Drifters Boots
[Standard Grade]
[Light Armour Class]
[Leather]
-Blunt resistance
0.16
-Cut resistance
0.21
[Coverage]
-Right Leg
40%
-Left Leg
40%
-Athletics effect
0.97x
------------
-Weight
1kg
-Value
538
-Trade Value
107
Blueprints
Edit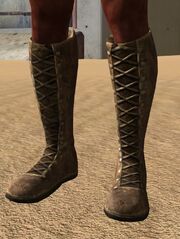 Drifter Boots Blueprint

Details
Tech Level
lvl 2
Cost
538 cats
Location(s) to Buy
DC Armour Traders or Footwear Traders
Research
Material Cost
Production
Prototype
0 hrs
 ?
 ? hrs
Shoddy
6 hrs
 ?
 ? hrs
Standard
9 hrs
 ?
 ? hrs