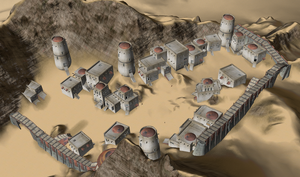 As of the Beta launch in 0.93.0, this town is no longer available as it was in the Old World. Please refer to the World of Kenshi page for a list of locations currently available.
Fort Simion (formerly known as Fisher) is the southernmost town in Kenshi. It is located on a small hill overlooking a plain. Nearby towns include Skinner's Roam and Black Scratch.
Also, as of v0.27.1 Fort Simion is the only town with a faction associated to it.
Post v0.27, this town was renamed from Fisher to Fort Simion. It is controlled by the Holy Empire faction.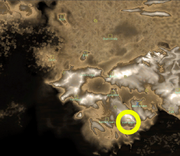 Important Buildings in Fort Simion
Edit