Halfpants (Ragged) are the base version for every other variant of Halfpants. They are unlocked to craft after researching Leather Armour Crafting. Halfpants are the most common piece of pants for many different NPCs, ranging from Citizen to Dust Bandits and are the starting pants for most of the Swords for Hire. The base version of Halfpants neither improve or decrease protection or stats for the character wearing them.
Appearance
Edit
Halfpants are khaki colored trousers that have endured a lot of wear and tear. The pant legs are ripped and torn around shin height. Other than the length, they are visually identical to Cargopants.
Halfpants (ragged)
[Coverage]
------------
-Weight
1kg
-Value
50
-Trade Value
10
Blueprints
Edit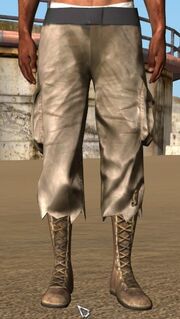 Oddly these pants still have a
Halfpants (ragged)
blueprint associated with them despite the recipe being unlocked with
Leather Armour Crafting
tech.
Ad blocker interference detected!
Wikia is a free-to-use site that makes money from advertising. We have a modified experience for viewers using ad blockers

Wikia is not accessible if you've made further modifications. Remove the custom ad blocker rule(s) and the page will load as expected.