"
Reinforced to pad your legs, turns a potential slice into a nasty bruise.
"

–In-game description
Halfpants [Reinforced] are an armoured variation of Halfpants. Visually they look the same as Halfpants with the exception that they are black in color. They are generally available at Clothing Traders and as of version 0.67.0 blueprints are available for purchase. Halfpants Reinforced can be crafted at a Clothing Bench.
Appearance
Edit
Halfpants [Reinforced] are ragged black pants. They are held up on the character by a black belt and have one cargo pocket on each leg about knee height. The pants have clearly seen better days since they are torn up around shin level.
Halfpants [Reinforced]
[Prototype Grade]
[Light Armour Class]
[Leather]
-Blunt resistance
0.13
-Cut resistance
0.032 (100% stun)
-Harpoon resistance
1pts
[Weather Protections]
[Coverage]
-Right Leg
100%
-Left Leg
100%
-Athletics effect
0.95x
------------
-Weight
2kg
-Value
69
-Trade Value
13
Halfpants [Reinforced]
[Shoddy Grade]
[Light Armour Class]
[Leather]
-Blunt resistance
0.1
-Cut resistance
0.13 (100% stun)
-Harpoon resistance
4pts
[Weather Protections]
[Coverage]
-Right Leg
100%
-Left Leg
100%
-Athletics effect
0.96x
------------
-Weight
2kg
-Value
277
-Trade Value
55
Halfpants [Reinforced]
[Standard Grade]
[Light Armour Class]
[Leather]
-Blunt resistance
0.2
-Cut resistance
0.26 (100% stun)
-Harpoon resistance
9pts
[Weather Protections]
[Coverage]
-Right Leg
100%
-Left Leg
100%
-Athletics effect
0.97x
------------
-Weight
2kg
-Value
942
-Trade Value
188
Blueprints
Edit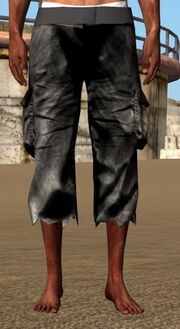 Halfpants [Reinforced] Blueprint

Details
Tech Level
lvl 2
Cost
942 cats
Location(s) to Buy
Clothing Trader
Research
Material Cost
Production
Prototype
0 hrs
2
2 hrs
Shoddy
6 hrs
2
3 hrs
Standard
7 hrs
2
4 hrs