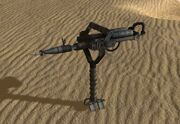 As of version 0.62.0 the
Harpoon Turret
is currently not implemented in the normal game of Kenshi but can be accessed through the in-game editor (Shift + F12). It is located under the 'Defence' section of the building menu. After placing a Harpoon Turret there are two interaction options available: 'null' and 'dismantle'. Selecting the 'null' option will cause your characters to move forward and they will do the default labor animation. However, since turrets and ranged combat are a work in progress and not currently in the game they serve no purpose. Presumably, the 'null' option will be replaced by an action to use the turret in the future.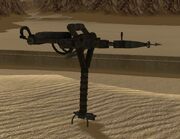 Needs to be merged in to this Page
Edit
Harpoon Turret MkII
Harpoon Turret MkII (light)
Double-Barrel Harpoon Turret
Double-Barrel Harpoon Turret (light)
Multi-Barrel Harpoon Turret
Ad blocker interference detected!
Wikia is a free-to-use site that makes money from advertising. We have a modified experience for viewers using ad blockers

Wikia is not accessible if you've made further modifications. Remove the custom ad blocker rule(s) and the page will load as expected.