"
Some crazy dude at some point must have thought "I like hats, but I don't like helmets, but I also like having a sword-resistant head...". Now we have iron hats.
"

–Ingame description
The Iron Hat is armour in Kenshi that is equipped in the Hat slot. It belongs to the Medium Armour Class and can be crafted using the Heavy Armour Smithy. 
Appearance
Edit
The Iron Hat is similar in design to the straw hat, with the exception that is made with armour plating. A wicker head cap rests on top of the character's head and then an iron plate covers the top of the head and individual armour plates are fastened together to create the brim of the hat. In real life, this design was used in Japan and was called a jingasa ("war hat").
Iron Hat
[Prototype Grade]
[Medium Armour Class]
[Metal Plate]
-Blunt resistance
0.03
-Cut resistance
0.13 (40% stun)
-Harpoon resistance
7pts
[Weather Protections]
[Coverage]
-Head
70%
-Stealth effect
0.46x
------------
-Weight
4kg
-Value
349
-Trade Value
52
Iron Hat
[Shoddy Grade]
[Medium Armour Class]
[Metal Plate]
-Blunt resistance
0.12
-Cut resistance
0.25 (40% stun)
-Harpoon resistance
29pts
[Weather Protections]
[Coverage]
-Head
70%
-Stealth effect
0.49x
------------
-Weight
4kg
-Value
1284
-Trade Value
192
Iron Hat
[Standard Grade]
[Medium Armour Class]
[Metal Plate]
-Blunt resistance
0.24
-Cut resistance
0.41 (40% stun)
-Harpoon resistance
59pts
[Weather Protections]
[Coverage]
-Head
70%
-Stealth effect
0.52x
------------
-Weight
4kg
-Value
4273
-Trade Value
640
Iron Hat
[High Grade]
[Medium Armour Class]
[Metal Plate]
-Blunt resistance
0.36
-Cut resistance
0.58 (40% stun)
-Harpoon resistance
89pts
[Weather Protections]
[Coverage]
-Head
70%
-Stealth effect
0.56x
------------
-Weight
4kg
-Value
9255
-Trade Value
1388
Iron Hat
[Specialist Grade]
[Medium Armour Class]
[Metal Plate]
-Blunt resistance
0.48
-Cut resistance
0.74 (40% stun)
-Harpoon resistance
119pts
[Weather Protections]
[Coverage]
-Head
70%
-Stealth effect
0.59x
------------
-Weight
4kg
-Value
16231
-Trade Value
2434
Iron Hat
[Masterwork Grade]
[Medium Armour Class]
[Metal Plate]
-Blunt resistance
0.57
-Cut resistance
0.86 (40% stun)
-Harpoon resistance
142pts
[Weather Protections]
[Coverage]
-Head
70%
-Stealth effect
0.62x
------------
-Weight
4kg
-Value
22770
-Trade Value
3415
Blueprints
Edit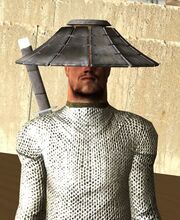 Iron Hat Blueprint

Details
Tech Level
lvl 2
Cost
3697 cats
Location(s) to Buy
DC Hat Traders
Research
Material Cost
Production
Prototype
0 hrs
0.5
2 hrs
Shoddy
6 hrs
0.6
2 hrs
Standard
9 hrs
0.7
2 hrs