Welcome to the Kenshi Wiki
Kenshi is a single player free-roaming Role Playing Game, with a Real-Time Strategy influence.
About
This is the Wiki for the game Kenshi! You can find it at www.lofigames.com Some parts may be unfinished but we are always looking for people to help expand the wiki! Make sure to join us on the forums also!
If you are new to the game then you should check out the guides. If you are returning, you should check out the Changelog.
Contributing
To help out visit the Things To Do section on the Community Page. Also, check out the Editor Reference Guide for proper format when editing pages.
When contributing to the Wiki please make sure that:
Your information is accurate.
Your spelling and grammar are correct.
You respect the content that is already present on pages and be conscious of whether your addition is adding anything meaningful to the article or whether it is being redundant.
You do not advertise.
If you are going to link a youtube video some rules apply.
No swearing on the wiki, wiki's are meant to be friendly to all ages, swearing will result in a ban.
Follow these simple rules and you will be well on your way to contributing great content that everyone can use and enjoy.
Welcome to The Kenshi Wiki and happy editing!

Featured Videos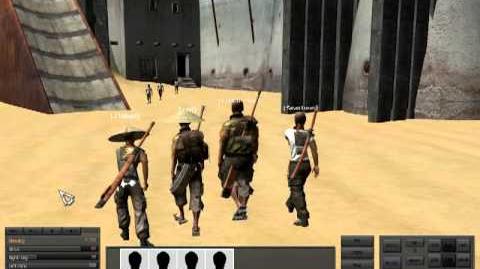 Gallery
Forum Activity
Forum Activity
Updates
Click here for more archived, older updates.
Update 0.44.0 Just came out on July 2nd including the following quote from Lofigames news feed;
Here we go, 0.44 is now out!
You will notice a lot of clothing bugs. Make sure to import to a new game, and sell your old bodyarmour because it's being phased out and will one day vanish.
The update is huge, so to protect my measly update server it won't be on the standard auto-updater for a few days or so. You can get it by the Steam or Desura auto-updaters, or by downloading the new installer here:
http://www.indiedb.com/games/kenshi/downloads/kenshi-0440
0.44.0 "Culture and stuff" This is a major overhaul to the items and artwork. Many items are being phased out and replaced, you may find some of your gear (like straw hats) looks wrong, they need to be replaced. NPCs will also be geared-up wrong, so you will need to import your squad into a new game world to fix everything up.
New AI Job system. Shift-click when giving an order and it will become a permanent job for that character. Eg shift-rightclick on a half finished building and he will become an engineer, helping out with all building jobs that appear. If you give him an order he will do it, then go back to building when he is done. Jobs can be removed in the orders panel in the bottom right.
Character AI jobs are also loaded and saved
Face customisation added to character editor
Hair for characters
Wandering traders should now work and buy stuff from your shop counters. They don't want your crappy looted swords though, they want food and booze and trade goods.
Totally new male character model
Entirely new bunch of armour and clothing, replaces most of the old stuff
You can find plastic surgeons in bars, basically they just re-activate the character editor for you.
Clothing and armour can modify your speed and combat skills
Clothing worn by some factions is tagged as a uniform. This reduces the re-sale value, and in future updates will have diplomatic effects too.
NPCs are now more random and unique-looking
MAJOR BUGFIXES
Traders no longer permanently run out of money
Fixed the negative research progress bug
Game pauses during character creation, so you don't get attacked
Map screen now shows player towns again
Fixed AI problem where characters would run back and forth without doing anything
Community Blogs
Create blog post
If anyone feels like they could add more to any of the articles i created/updated feel free. I'm ju…

Read more >

So I know full well I was a minor character on this board, but I'm back to Kenshi, and I'm hoping t…

Read more >

I have come back from my unexpected disable and hiatus! Unfortunately, I'm stuck on this alt accoun…

Read more >
See more >
Facebook