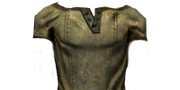 "
Undershirts provide a reliable second layer of defence.
"

–In-game description
Leather Shirt is armor in Kenshi that can be used as a Shirt for the player. It belongs to the Light Armour Class and can be crafted using the Leather Armour Crafting Bench .
Appearance
Edit
The Leather Shirt is similar in appearance to a T-shirt. It is made up of a light brown leather that covers the chest and ends where the shoulder meets the bicep. The arms and neck have a dark green almost scaly trim.
Leather Shirt
[Prototype Grade]
[Light Armour Class]
[Leather]
-Blunt resistance
0.004
-Cut resistance
0.16 (100% stun)
[Weather Protections]
[Coverage]
-Chest
100%
-Stomach
100%
-Right Arm
30%
-Left Arm
30%
-Athletics effect
0.98x
------------
-Weight
1kg
-Value
320
-Trade Value
64
Leather Shirt
[Shoddy Grade]
[Light Armour Class]
[Leather]
-Blunt resistance
0.08
-Cut resistance
0.26 (100% stun)
[Weather Protections]
[Coverage]
-Chest
100%
-Stomach
100%
-Right Arm
30%
-Left Arm
30%
-Athletics effect
0.98x
------------
-Weight
1kg
-Value
1584
-Trade Value
316
Leather Shirt
[Standard Grade]
[Light Armour Class]
[Leather]
-Blunt resistance
0.16
-Cut resistance
0.35 (100% stun)
[Weather Protections]
[Coverage]
-Chest
100%
-Stomach
100%
-Right Arm
30%
-Left Arm
30%
-Athletics effect
0.99x
------------
-Weight
1kg
-Value
5384
-Trade Value
1076
Blueprints
Edit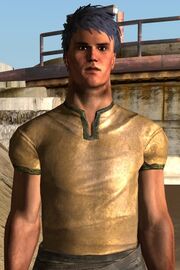 Leather Shirt Blueprint

Details
Tech Level
lvl 2
Cost
5384 cats
Location(s) to Buy
HN, DC & UC Clothing Traders
Research
Material Cost
Production
Prototype
0 hrs
2
7 hrs
Shoddy
12 hrs
3
14 hrs
Standard
20 hrs
3
22 hrs