"
Awesome leather coat, offers a light protection from attacks. Pretty hot to wear in the desert though.
"

–In-game description
Longcoat is a type of armor in Kenshi. It belongs to the Light Armour Class and can be crafted using the Leather Armour Crafting Bench. The Longcoat is the armour of Clothing Traders and Deadcat's Mercenary Captains.
Appearance
Edit
Longcoat is a leather trench coat made from a light brown leather. It has rolled-up sleeves that come down to elbow level. The Longcoat has a tall thick collar that protects the neck of the character. The coat is held shut by a leather belt that wraps around the waist of the character twice. 
Longcoat
[Prototype Grade]
[Light Armour Class]
[Leather]
-Blunt resistance
0.004
-Cut resistance
0.16 (80% stun)
[Coverage]
-Head
25%
-Chest
100%
-Stomach
100%
-Right Arm
75%
-Left Arm
75%
-Right Leg
60%
-Left Leg
60%
-Athletics effect
0.98x
------------
-Weight
7kg
-Value
160
-Trade Value
32
Longcoat
[Shoddy Grade]
[Light Armour Class]
[Leather]
-Blunt resistance
0.08
-Cut resistance
0.26 (80% stun)
[Coverage]
-Head
25%
-Chest
100%
-Stomach
100%
-Right Arm
75%
-Left Arm
75%
-Right Leg
60%
-Left Leg
60%
-Athletics effect
0.98x
------------
-Weight
7kg
-Value
792
-Trade Value
158
Longcoat
[Standard Grade]
[Light Armour Class]
[Leather]
-Blunt resistance
0.16
-Cut resistance
0.26 (80% stun)
-Harpoon resistance
9pts
[Coverage]
-Head
25%
-Chest
100%
-Stomach
100%
-Right Arm
90%
-Left Arm
90%
-Right Leg
60%
-Left Leg
60%
------------
-Weight
7kg
-Value
7812
-Trade Value
1171
Longcoat
[High Grade]
[Light Armour Class]
[Leather]
-Blunt resistance
0.24
-Cut resistance
0.38 (80% stun)
-Harpoon resistance
14pts
[Coverage]
-Head
25%
-Chest
100%
-Stomach
100%
-Right Arm
90%
-Left Arm
90%
-Right Leg
60%
-Left Leg
60%
------------
-Weight
7kg
-Value
17380
-Trade Value
2607
Blueprints
Edit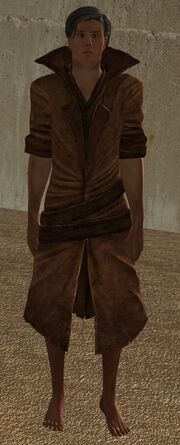 Longcoat Blueprint

Details
Tech Level
lvl 2
Cost
2692 cats
Location(s) to Buy
Swampers General items trader
Research
Material Cost
Production
Prototype
0 hrs
4
4 hrs
Shoddy
12 hrs
5
8 hrs
Standard
20 hrs
5
14 hrs