"
Simple bindings to protect the bones of the fist. Commonly worn by martial artists, those who shun the use of the sword.
"

–In-game description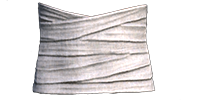 Martial Artist Bindings is a clothing Shirt that provides a bonus to Martial Arts (+2) and provides Fist Protection (70%). 
Appearance
Edit
Martial Artist Bindings are white cloth hand, abdominal and foot wrappings on the character. The appearance is similar to what you would normally see done for professional fighters to prevent injuries sustained from striking and being struck. 
Martial Artist Bindings
[Coverage]
-Combat skills effect
2
------------
-Weight
1kg
-Value
200
-Trade Value
40
Blueprints
Edit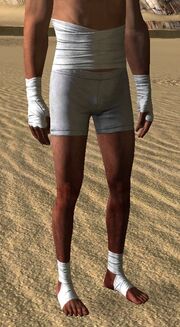 Martial Artist Bindings Blueprint

Details
Tech Level
lvl ?
Cost
 ? cats
Location(s) to Buy
Clothing Manufacture Stuff Research
Research
Material Cost
Production
No Grade
- hrs
0.8
3 hrs