"
Simple bindings to protect your fists.
"

–In-game description
Martial Artist Bindings is a clothing Shirt that provides a bonus to combat skills. 
Appearance
Edit
Martial Artist Bindings are white cloth hand, abdominal and foot wrappings on the character. The appearance is similar to what you would normally see done for professional fighters to prevent injuries sustained from striking and being struck. 
Martial Artist Bindings
[Coverage]
-Combat skills effect
2
------------
-Weight
1kg
-Value
200
-Trade Value
40
Blueprints
Edit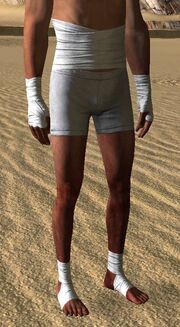 Martial Artist Bindings Blueprint

Details
Tech Level
lvl ?
Cost
 ? cats
Location(s) to Buy
Clothing Manufacture Stuff Research
Research
Material Cost
Production
No Grade
- hrs
0.8
3 hrs
Ad blocker interference detected!
Wikia is a free-to-use site that makes money from advertising. We have a modified experience for viewers using ad blockers

Wikia is not accessible if you've made further modifications. Remove the custom ad blocker rule(s) and the page will load as expected.