"
Orange robes of the Holy Nation Priest caste, demanding respect from anyone lower than a High Paladin.
"

–In-game description
The Monk Robe is a type of armor in Kenshi. It was put into the game in version 0.67 but could be put into the game with the Forgotten Construction Set in earlier versions. Once the blueprint is learned it can be crafted from a Clothing Bench.
Monk Robe
[Prototype Grade]
[Cloth]
-Blunt resistance
0.015
-Cut resistance
0
[Coverage]
-Chest
100%
-Stomach
100%
-Right Arm
100%
-Left Arm
100%
------------
-Weight
2kg
-Value
16
-Trade Value
3
Monk Robe
[Shoddy Grade]
[Cloth]
-Blunt resistance
0.06
-Cut resistance
0
[Coverage]
-Chest
100%
-Stomach
100%
-Right Arm
100%
-Left Arm
100%
------------
-Weight
2kg
-Value
27
-Trade Value
5
Monk Robe
[Prototype Grade]
[Cloth]
-Blunt resistance
0.12
-Cut resistance
0
[Coverage]
-Chest
100%
-Stomach
100%
-Right Arm
100%
-Left Arm
100%
------------
-Weight
2kg
-Value
64
-Trade Value
12
Blueprints
Edit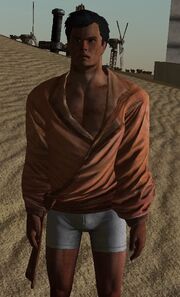 Monk Robe Blueprint

Details
Tech Level
lvl 2
Cost
8081 cats
Location(s) to Buy
Clothing Traders
Research
Material Cost
Production
Prototype
0 hrs
3
4 hrs
Shoddy
9 hrs
4
6 hrs
Standard
15 hrs
4
11 hrs