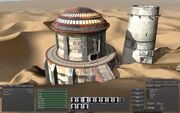 Police Station
The Police Station is a building in towns, where you can carry bandits with bounties for your reward. Either speak with the NPC inside, or drop them off in the cages along the walls. They also have training dummies and, very soon, there will be an option to join the police.
Ad blocker interference detected!
Wikia is a free-to-use site that makes money from advertising. We have a modified experience for viewers using ad blockers

Wikia is not accessible if you've made further modifications. Remove the custom ad blocker rule(s) and the page will load as expected.