Riddly is a Greenlander female Unique Recruit. Found in Clownsteady's Bar. She is an Adventurer and will ask to join you for a drink if interacted with. Will join for free right away or the second time you meet her according to your conversation choice. Will be free either way. Has a fairly good stats all around.
Riddly

Details
Race
Greenlander
Gender
Female
Cost
0 Cats
Weapons
Topper, Katana
Armour
Armoured Hood, Cap, Flared Helmet, Rattan Hat, Square Goggles, Straw Hat, Tricorn Hat, Turban, Wool Hat, Assassin's Rags, Heart Protector, Mercenary Plate, Sleeveless Longcoat, Trader's Leathers, Mercenary Plate, Longcoat, Stout Hessian Uniform, Leather Vest, Cargopants, Halfpants (ragged), Ninja Pants, Samurai Clothpants, Plated Longboots, Samurai Boots, Wooden Sandals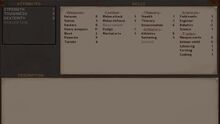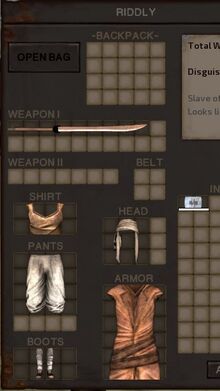 Ad blocker interference detected!
Wikia is a free-to-use site that makes money from advertising. We have a modified experience for viewers using ad blockers

Wikia is not accessible if you've made further modifications. Remove the custom ad blocker rule(s) and the page will load as expected.