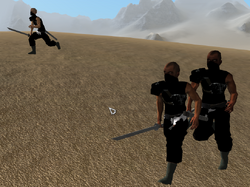 The Sand Ninjas is a faction hostile to all other factions. Uncommonly found, the Sand Ninjas are typically more dangerous than the Starving Bandits and Dust Bandits.
The Sand Ninjas is a cult of highly skilled highwaymen. They attack passerbys with skilled combat to slay the weak. Some ninjas must go through cult challenges to prove their worthy as lieutenants, such as surviving the badlands alone.
Ad blocker interference detected!
Wikia is a free-to-use site that makes money from advertising. We have a modified experience for viewers using ad blockers

Wikia is not accessible if you've made further modifications. Remove the custom ad blocker rule(s) and the page will load as expected.