"
Some sort of crude helmet patched together out of scraps of plate, with added spikes for intimidation. Guaranteed to be strapped to a bandit of some kind.
"

–In-game description
The Spiked Helmet belongs to the Heavy Armour Class and is often seen worn by Bandits. It can be obtained through looting or by purchasing it at a Hat Trader.
Appearance
Edit
The Spiked Helmet has an asymmetrical design and appears to made from several pieces of scrap armour plating hammered together. Jagged spikes of various lengths jut out from the main body of the helmet. It covers the head but leaves the face and neck exposed to attack. 
Spiked Helmet
[Prototype Grade]
[Heavy Armour Class]
[Metal Plate]
-Blunt resistance
0.03
-Cut resistance
0.14 (60% stun)
-Harpoon resistance
7pts
[Weather Protections]
[Coverage]
-Head
80%
-Stealth effect
0.21x
-Combat skills effect
-3
------------
-Weight
5kg
-Value
150
-Trade Value
22
Spiked Helmet
[Shoddy Grade]
[Heavy Armour Class]
[Metal Plate]
-Blunt resistance
0.12
-Cut resistance
0.28 (60% stun)
-Harpoon resistance
29pts
[Weather Protections]
[Coverage]
-Head
80%
-Stealth effect
0.24x
-Combat skills effect
-3
------------
-Weight
5kg
-Value
902
-Trade Value
135
Spiked Helmet
[Standard Grade]
[Heavy Armour Class]
[Metal Plate]
-Blunt resistance
0.24
-Cut resistance
0.46 (60% stun)
-Harpoon resistance
59pts
[Weather Protections]
[Coverage]
-Head
80%
-Stealth effect
0.28x
-Combat skills effect
-3
------------
-Weight
5kg
-Value
3309
-Trade Value
496
Spiked Helmet
[High Grade]
[Heavy Armour Class]
[Metal Plate]
-Blunt resistance
0.36
-Cut resistance
0.64 (60% stun)
-Harpoon resistance
89pts
[Weather Protections]
[Coverage]
-Head
80%
-Stealth effect
0.32x
-Combat skills effect
-3
------------
-Weight
5kg
-Value
7321
-Trade Value
1098
Spiked Helmet
[Specialist Grade]
[Heavy Armour Class]
[Metal Plate]
-Blunt resistance
0.48
-Cut resistance
0.82 (60% stun)
-Harpoon resistance
119pts
[Weather Protections]
[Coverage]
-Head
80%
-Stealth effect
0.37x
-Combat skills effect
-3
------------
-Weight
5kg
-Value
12938
-Trade Value
1940
Spiked Helmet
[Masterwork Grade]
[Heavy Armour Class]
[Metal Plate]
-Blunt resistance
0.57
-Cut resistance
0.95 (60% stun)
-Harpoon resistance
142pts
[Weather Protections]
[Coverage]
-Head
80%
-Stealth effect
0.41x
-Combat skills effect
-3
------------
-Weight
5kg
-Value
18204
-Trade Value
2730
Blueprints
Edit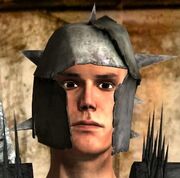 Spiked Helmet Blueprint

Details
Tech Level
lvl 2
Cost
3309 cats
Location(s) to Buy
Drifter's Last
Research
Material Cost
Production
Prototype
0 hrs
0.6
2 hrs
Shoddy
6 hrs
0.7
2 hrs
Standard
9 hrs
0.8
2 hrs