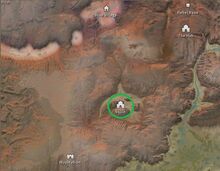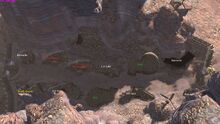 A Shek Town in the Border Zone housed in a narrow canyon, Southwest of The Hub and Northeast of Waystation (West).
Skin Spiders and Kral's Chosen wander the area outside town, so weaker squads should be quick and wary. Shek Warriors will occasionally initiate a challenge as well.
Buildings and Shops
Edit
Bar x2
Trade Goods Trader - Shek
Armour Trader - Shek
Weapon Trader - Shek
Barracks x 3
Unique Recruits
Edit
Ad blocker interference detected!
Wikia is a free-to-use site that makes money from advertising. We have a modified experience for viewers using ad blockers

Wikia is not accessible if you've made further modifications. Remove the custom ad blocker rule(s) and the page will load as expected.