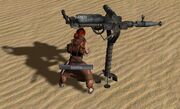 "
Skill at shooting defensive weapon turrets. Affects accuracy, reload speed, target acquisition, and the ability to avoid friendly fire.
"

–In-game stats description
Turrets is a weapon skill based stat that affects the character's ability to use defensive weapon turrets. It was introduce in version 0.64 but turrets were accessible through the in-game editor as early as version 0.62.0. Currently the only way to train this skill is by using turrets or Training turrets in experimental.
Stats AffectedEdit
The level of a character's Turrets skill improve their accuracy, rate of fire and friendly fire avoidance.
Accuracy: this affects the character's likelihood of hitting their target. The default value for a character with a skill of 0 is 25% and will max at 125%.
Rate of fire: this affects the amount of time it takes for a character to reload an arrow or harpoon on a turret. The default value for a skill of 0 is 25% and will max at 125%.
Friendly fire avoidance: this will lower the chance that a character will shoot a friendly character while operating a turret. At level 0 the character will have a 0% chance to avoid shooting friendlies but will have a 100% chance from committing friendly fire when the skill reaches level 50. 
Ad blocker interference detected!
Wikia is a free-to-use site that makes money from advertising. We have a modified experience for viewers using ad blockers

Wikia is not accessible if you've made further modifications. Remove the custom ad blocker rule(s) and the page will load as expected.